We love mystery chapter books so we had a hard time choosing which book to read for the Virtual Chapter Book Club for Kids this month!  After some discussion we chose Nancy Clancy by Robin Preiss Glasser since it was one my 5 year old hadn't read yet.
One of the kids' favorite parts of the book was when Nancy Clancy dusted for fingerprints with her fingerprint kit–so we had to try it ourselves!
We used the Undercover Spy Gear Fingerprint kit to analyze our fingerprints, but any kit you find will work.
We wiped down our chalkboard table and the kids each made a fingerprint.  Then they used the fingerprint dust and a small soft paintbrush to brush dust over the print.
They "lifted" the prints with a clear, plastic sticker and stuck them to the fingerprint worksheet.  Then they used the fingerprint ink to make another print with the same finger to compare.
We talked about the things we noticed in the fingerprints and why the two from the same finger might look different on the paper.  It was the first time I had "dusted for fingerprints" before and I have to say if was pretty fun!
I am convinced that you can replicate the kit on your own using powered watercolors instead of the dusting powder and clear mailing labels instead of the ones that came in the kit.  We are big mystery fans so I think we'll try out my theory sometime soon…stay tuned!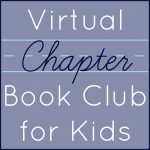 Make sure to check out the link up below to find some more mystery themed chapter books and activities/crafts. If you have any activity/craft to share inspired by a mystery chapter book, come link up!
Here are our Virtual Chapter Book Club Participating Bloggers this month:
The Educators' Spin On It
Mom to 2 Posh Lil Divas
Play Dr Mom
Coffee Cups and Crayons
KC Edventures with Kids
Kitchen Counter Chronicles
If you want to get our Virtual Book Club for Kids Newsletter, you can sign up here. The first issue will be sent out soon!
Don't forget to follow Virtual Book Club for Kids on Pinterest too! Just click on the image below.